Alan Wasser, Former Host of
Folk Music Worldwide, in 2014
I've loved folk music ever since I first heard it as a kid at summer camps in upstate New York. One summer during college, a friend of mine and I slept on the beach in Newport, RI so we could attend the Newport Folk Festival.
When I was attending NYU in Greenwich Village, I spent most Sundays in Washington Square Park among the crowds of amateur folk singers with a gifted guitar playing friend named Tony Herbert. I knew the words to most of the songs, and loved to sing them, although, to be honest, I didn't sing too loud because I really can't carry a tune in a bucket.
Folk music is generally simple and human and understandable.
I like the fact that, for the most part, it is the music of real people and many songs have had generations of evolution to get to their current form. And every country and culture has its own interesting forms of folk music.
So, when, fresh out of the Peace Corps, I got a job as a newsman at Radio New York Worldwide, I offered to also do a show about folk music on the side, in addition to my regular duties. I wanted to interview the artists about their songs to help listeners understand where the music really came from.

A Radio Show from the Heyday of Hootenanny
Radio New York Worldwide, WRUL, was a unique animal - a commercial international shortwave radio station, broadcasting all over the globe from studios in midtown Manhattan. That meant we had listeners in many, many countries but no way to get reliable ratings, so advertisers were few and far between.
Reporting at the 1964 NY World's Fair
Fortunately, that happened to be a period in time when folk music was enjoying a vogue - a sort of genre du jour - with its own hit TV show called Hootenanny. So my new bosses said OK, as long as it didn't interfere with my primary duties as a newsman.
I was also doing a weekly show called Peace Corps Report, aimed at volunteers all over the world, and frequent interviews and reports from the New York World's Fair which was open at Flushing Meadows that year.
I recorded 29 episodes of Folk Music Worldwide in total before I moved on to a better job with ABC Radio Network News. For many years afterwards I kept the reel to reel tapes in the back of a closet. In 1991, I converted the tapes to cassettes to free up the space 29 boxes of tape took.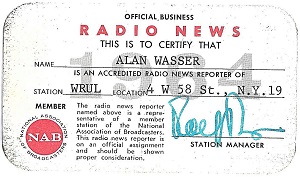 My WRUL press card
A few years ago, in a casual conversation with musician Jim Whitney of the great Andy Statman Trio, who's a sort of relative, I happened to mention that I had once done a folk music radio show and he convinced me to let him hear some.
His reaction was so favorable that I was amazed.
So I mentioned the show to another musician friend, Reid Wilson of the Canadian singing group AfterGlow. He too was extremely positive, and that convinced me I ought to convert the cassettes to MP3s and make the shows available on the web for everyone to enjoy. Another friend, Doug Jobes, contributed his web skills and helped me put this site online.
These classic folk music interviews and songs certainly will not interest the vast majority of the current population, but maybe there are a few others out there like Jim and Reid who would really enjoy hearing them. I hope you're one of those.
Sincerely,

Alan Wasser
Note: Mr. Wasser can be reached at alanwasser (at) folkmusicworldwide.com .
Go to the Master List of Shows (Home Page)
---